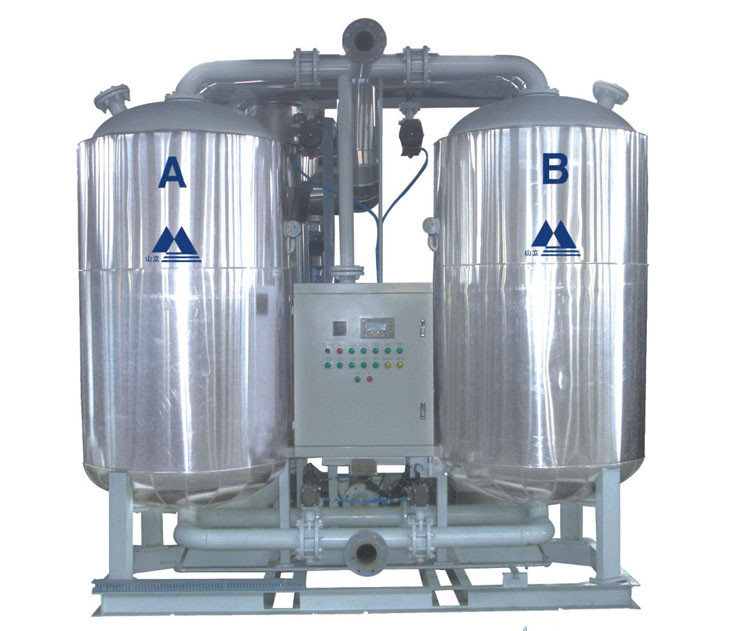 Features
●1.The inlet and outlet temperature difference of pre-cooler is 3 C, which is much more better than the similar products and minimize     the outlet relative humidity and avoid condensation in the pipings.
●2.Outlet compressed air relative humidity is low, the below air pipe surface without Condensation phenomenon.
  The pre-coolerreclaim nearly 90% compressed air, and greatly reduces the evaporator load, so the power consumption of the    refrigerant compressor is low, only 70% of the normal one. 
●3.Friendly refrigerant is adopted for all series dryers.
  Security and Reliability
  Multiple overload protection.
  Newest CE certificate.
Working Principle
     For added energy savings, it uses a high efficiency blower to take in ambient air required during the heat regeneration cycle to desorb moisture from the desiccant, no compressed air is used during this phase. 
     Dry compressed air is used during the dry air cooling regeneration period for reduced heat and dew point spike at tower switchover. This amounts to an average process air use of 3% of the rated capacity of the dryer. 
 
  Technical Specification of Zero Purge Consumption Type
Model
Air Capacity
Connection  Diameter
Heater  Power
Blower  Power
Blower Fan
Desiccant Weight
Equipment Weight
Device  Size
(Mm3/min)
cfm
(KW)
(KW)
(Nm/min)
   (kg)
     (kg)
 (mm)
SDXG-10I
10.9
384
DN50
8
1.3
2.4
311
1300
1850×950×2400
SDXG-15I
16
564
DN65
10
1.3
2.4
486
1550
1950×1000×2440
SDXG-20I   
22
775
DN65
12
1.75
3.6
606
2000
2110×1100×2470
SDXG-25I
26.8
945
DN80
15
1.75
3.6
716
2200
2200×1200×2510
SDXG-30I
32
1128
DN80
18
2.2
5.2
860
2350
2200×1300×2510
SDXG-40I
43.5
1533
DN100
22
2.2
5.2
1158
2900
2400×1500×2520
SDXG-50I
53
1868
DN100
27
5.5
7.8
1520
3450
2750×1550×2850
SDXG-60I
67
2361
DN125
36
5.5
9.2
1710
3900
2750×1650×2850
SDXG-80I
90
3172
DN125
42
7.5
9.6
2660
5500
3450×2000×3100
SDXG-100I
110
3877
DN150
54
13
14.2
3220
6000
3600×2150×3200
SDXG-120I
130
4582
DN150
72
13
14.2
3842
6900
3900×2250×3400
SDXG-150I
160
5639
DN200
84
13
19
5288
9500
4300×2400×3500
SDXG-200I
210
7402
DN200
96
20
32
7008
14500
4800×2600×3850
    ......
Our  Company
Shanli is a CE and ISO 9001:2008 certificated leading air dryer manufacture in China with more than 20 year experience
with the most 26 patents.Shanli has been the supporting supplier for Atlas,Boge and Ingersoll Rand.We are already
make export to 20 different countries and worldwide as active, mainly Middle East and Europe.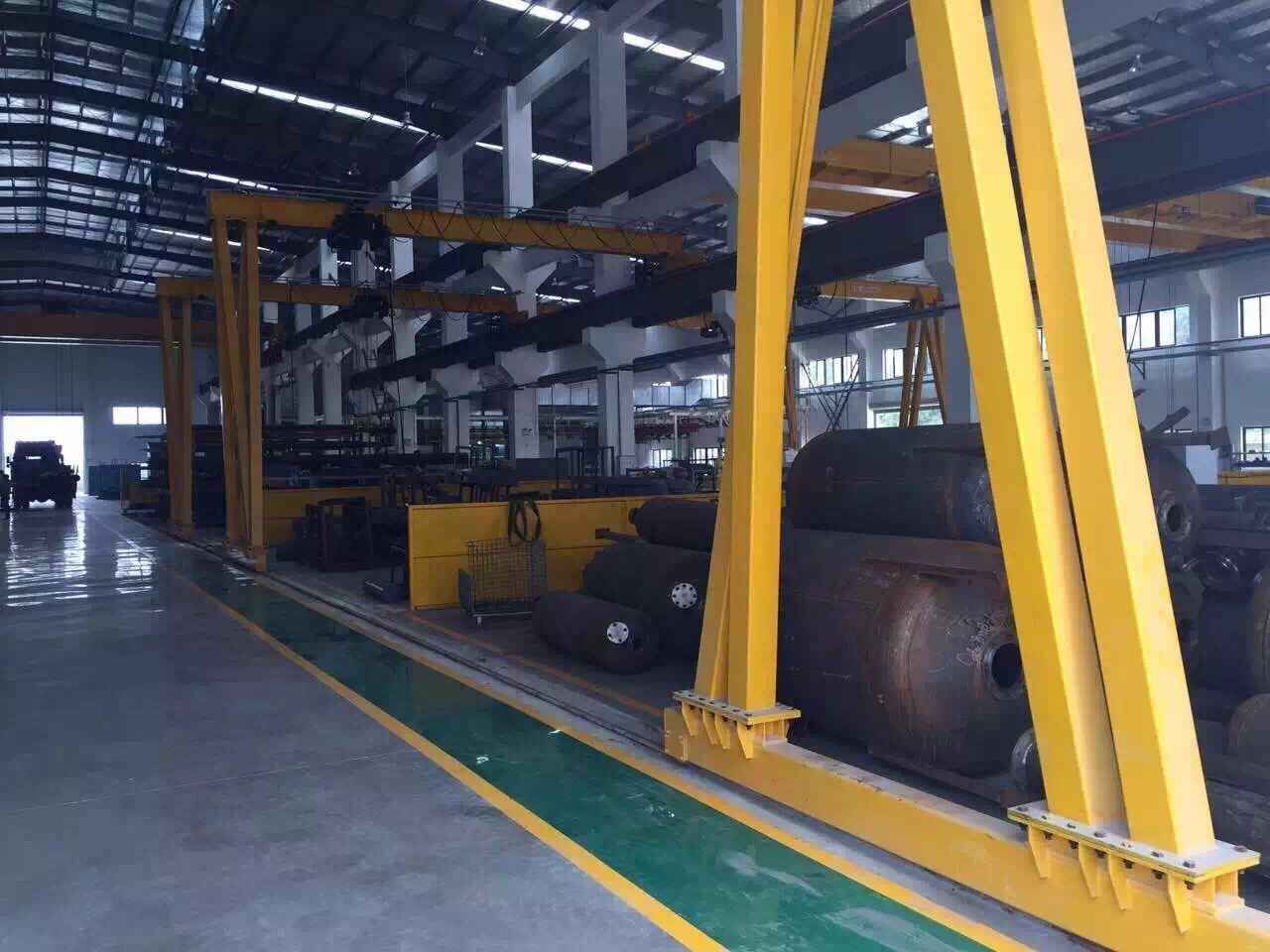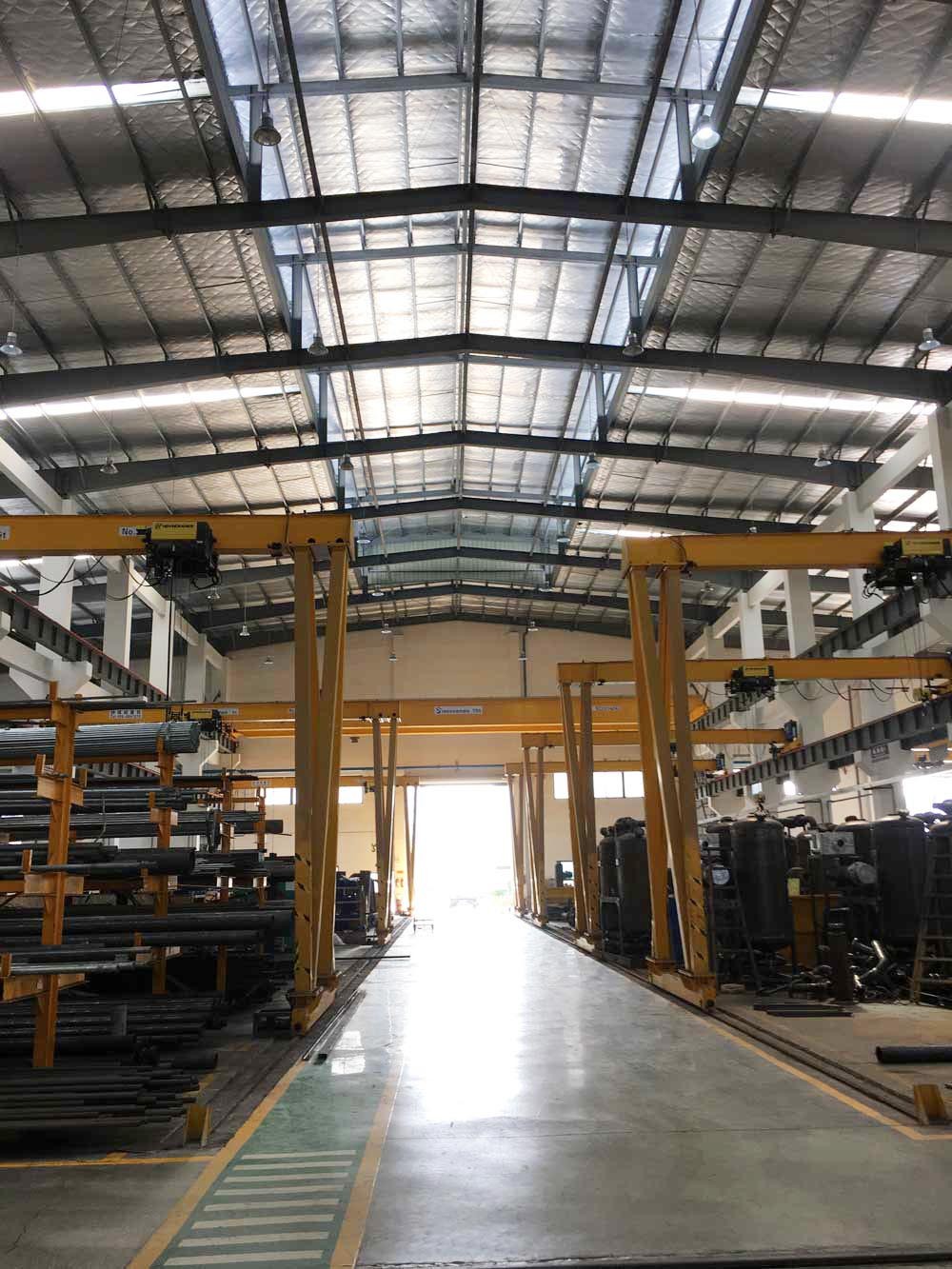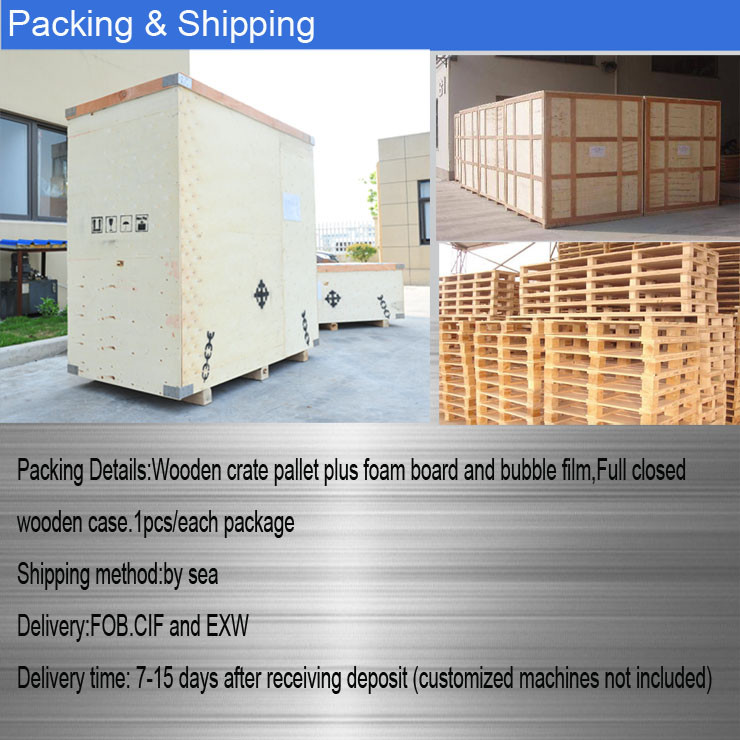 Company Information
Hangzhou Shanli Purify Equipment Corporation is an enterprise specialized in design, development
and production of compressed air dryers, filters and other purification equipments. Our company has a workshop of 
30, 000 square meters and more than 300 staff. Shanli has become one of the largest refrigerated air dryer manufacturers
in the Chinese purification industry with the top sales turnover. Our self-design and self-made equipment is compatible with many
famous brands of air compressor to efficiently remove water, oil and dustfrom compressed air.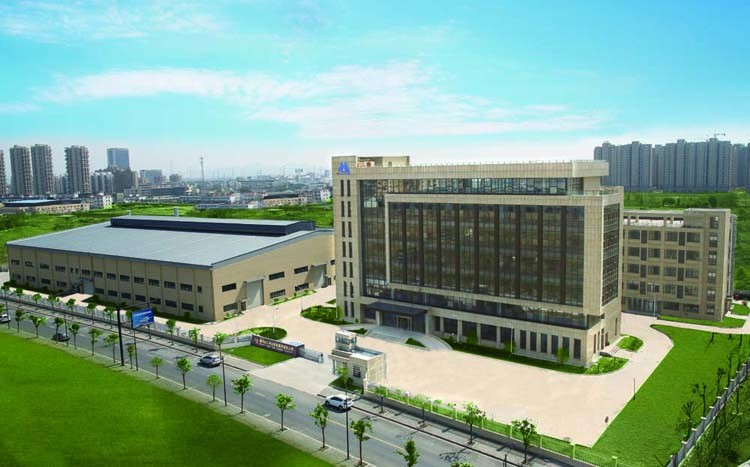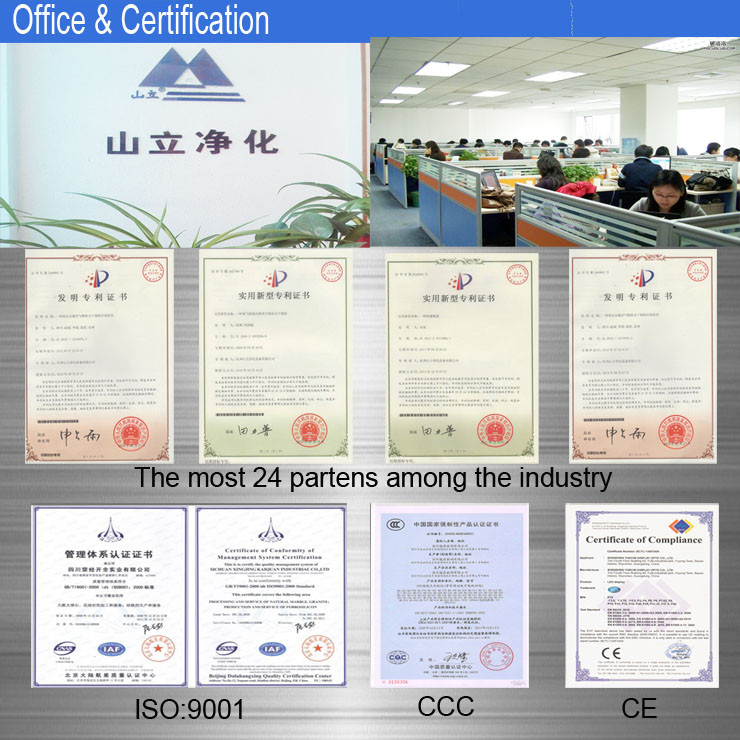 Shanli provides a complete product line:
Refrigeration Compressed Air Dryer
Air cooled refrigeration air dryer,water cooled refrigeration air dryer,normal temperature refrigeration air
dryer and high temperatuer refrigeration air dryer.
Adsorption Air Dryer
Shanli provide Heatless Adsorption air dryer,heated adsorption air dryer,Heat of Compression Adsorption air dryer
and Blower Purge adsorption air dryer.
Energy saving Products
It includes Zero purge Heat of Compression adsorption air dryer,Zero purge Blower Purge Adsorption air dryer and 
Combined type air dryer
Other Products
This series include Precooling machine, Industry Water chiller, Heat recovery system, compressed air filter and air filter element.
And Shanli refrigerated air dryers are widely used in industry such as Metallurgy industry,machinery industry,chemical fiber,light industry,
paper making,rubber making,instrument making, Biomedical Industry and daily chemical industry.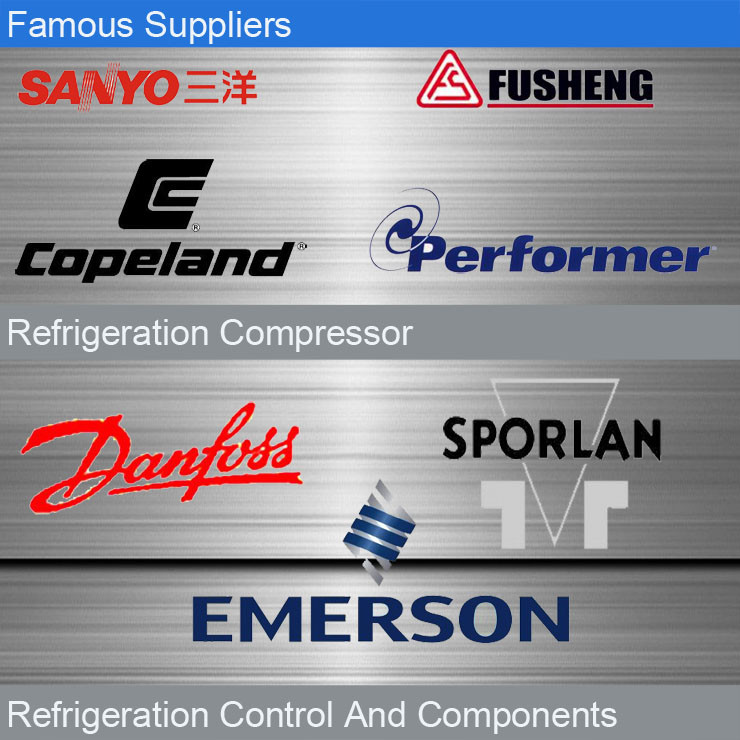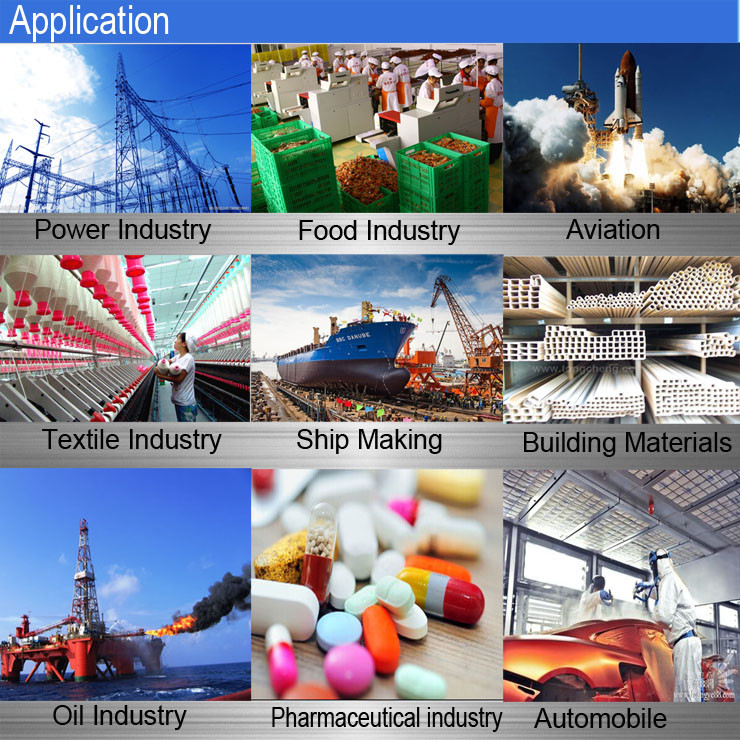 Contact Us
Hangzhou Shanli Purify Equipment Corp.
Add: No.8,Liangzhan Road, Renhe Street,Hangzhou, 311107, China
Tel:86-571-86392999
Fax:86-571-86392998
Email: shanli@shanlipurify.com
Website: www.shanlidryer.com