Product name: Air-cooled refrigerated air dryer
Product model: SLAD-6HTF
---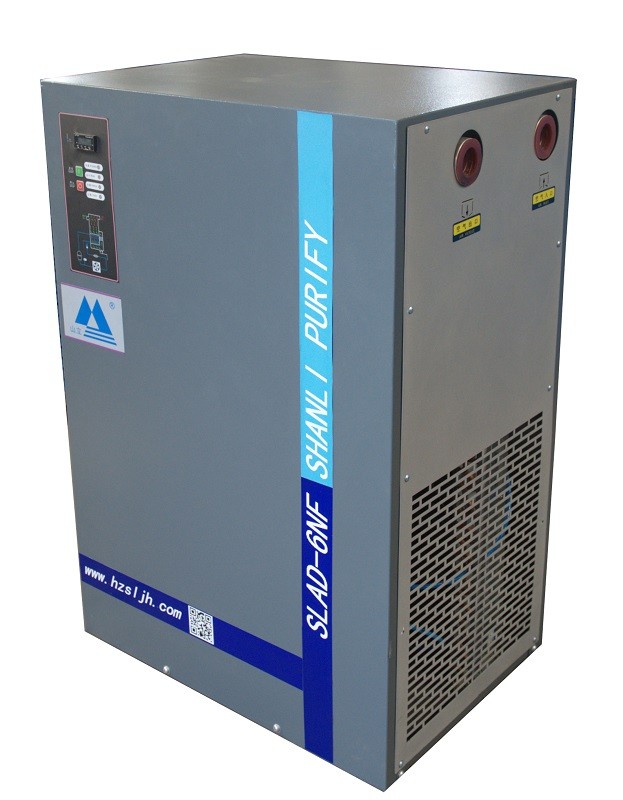 Product Function
---
● Dry, quality air is vital for long-term, trouble-free operation of your processes. SHANLI SLAD series dryers protect your products and systems against damage or corrosion. 
● They remove moisture from compressed air with a dew point as low as 2-10 °C/35.6-50 °F. Easy to install, simple to operate and reliable, they provide the dry air you need, allowing you to concentrate on your core business.
Technical Specifications
---
●  Pressure range: 0.6-1.6 Mpa

●  Max air inlet temp.: 80 Deg C

●  Max ambient temp.: 50 Deg C
●  Cooling method: air cooled type / water-cooled type

●  Pressure dew point: 5 Deg C

●  Power: 220/380V-1PH-50HZ

●  Refrigerant: R-22 (R-407C, R-134A as optional)
Note: Refrigerated air dryer without metal box board for over 80 m3/ min. Other special standards can be customized.

Working Principle
---
Refrigeration compressed air dryer makes the water vapor in the compressed air condenses into droplets through cooling so as to achieve the purpose of reducing moisture content. Condensed droplets are discharged by the automatic drainage system.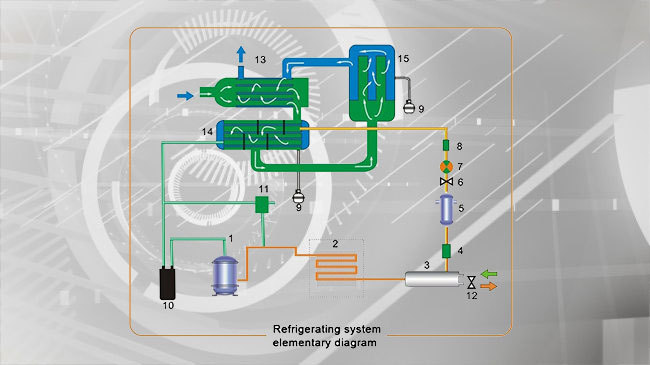 Annotation:

| | | |
| --- | --- | --- |
| 1. Cooling medium compressor    | 6. Manual valve     | 11. Hot gas by-pass valve |
| 2. Air condenser      | 7. Cooling medium sight glass      | 12. Water volume adjustable valve |
| 3. Water condenser       | 8. Expansion valve     | 13. Pre-cooling gas |
| 4. Magnetic valve         | 9. Automatic drainer  | 14. Evaporator |
| 5. Drying filter     | 10. Gas water separator  | 15. Effective separator |
Performance Parameters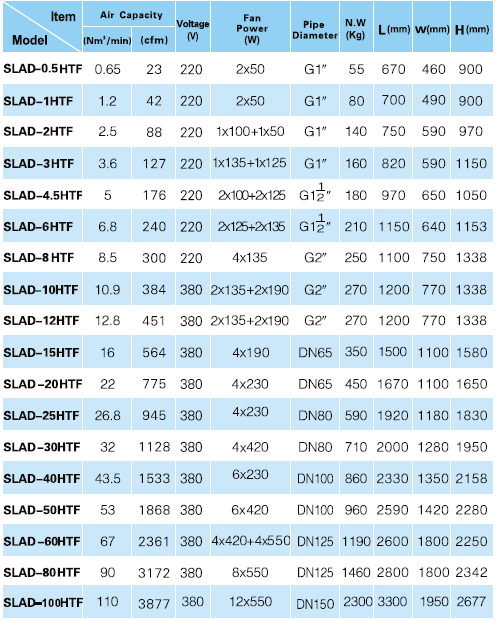 Package and Shipment

---
● Packing details: Wooden crate pallet plus foam board and bubble film, Full closed wooden case. 1pcs/each package (for stationary desiccant air dryer)
● Transportations: sea transport,  rail transport, air transport, road transport, LCL/ FCL container transport  or as requested
● Trade terms: FOB, CFR, CIF and EXW, DDP, etc.
● Delivery time: in 20 days after receiving deposit (customized machines not included)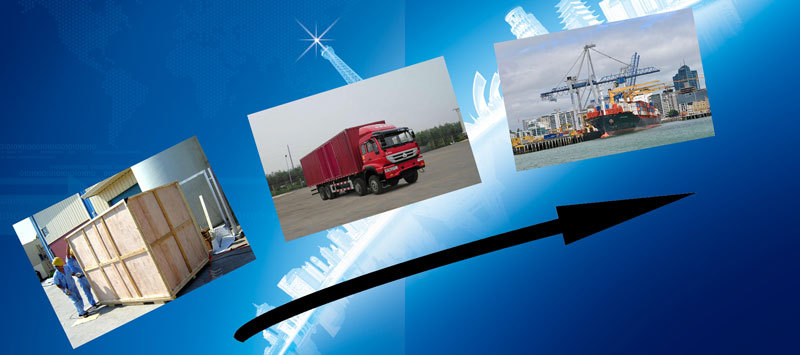 Company Information

---
● Hangzhou Shanli Purify Equipment Corp., was formed in 1997, as a compressed air solutions company. 

● The workshop at integrated engineers and contractors has a dedicated team, which is continuously engaged in upbringing of new technologies for greater efficiency. 

● The company was involved in supplying of refrigerated air dryers, desiccant air dryers, compressed air filters, oil water separators and water chillers as a manufacturer, exporter and supplier.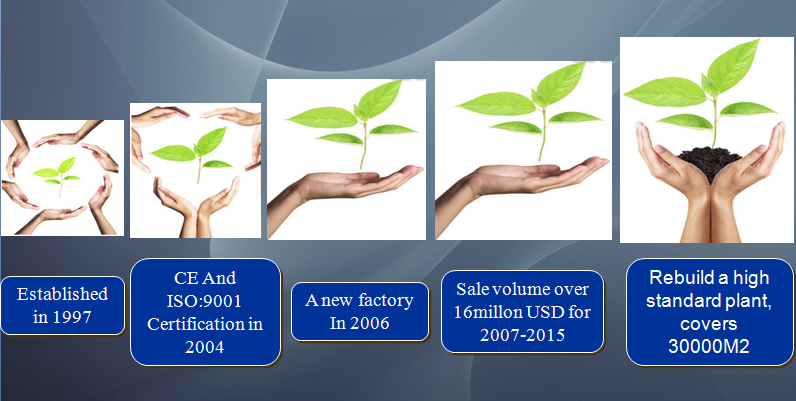 Advantage
---
1. Quality:
● Certification: CE, ISO-9001, ISO-14001 and 26 patents to ensure unmatched quality of our product assortment.
● Stringent quality control mechanism: updating the involved technology as per prevailing international standards;
● Stable performance: using premium grade raw material from highly reputed manufacturers, like Danfoss, Emerson, Performer, Bitzer, Fusheng, Sprolan;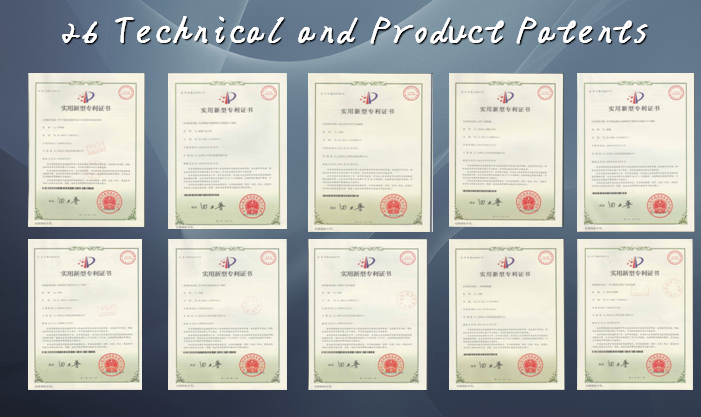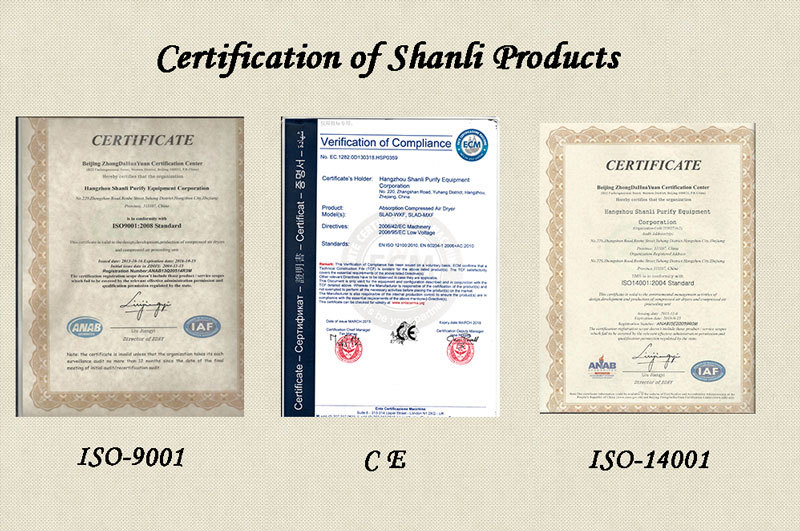 2. Customer:
● Some of major cooperated customers (from our wide range of customers ) have been enlisted below for reference: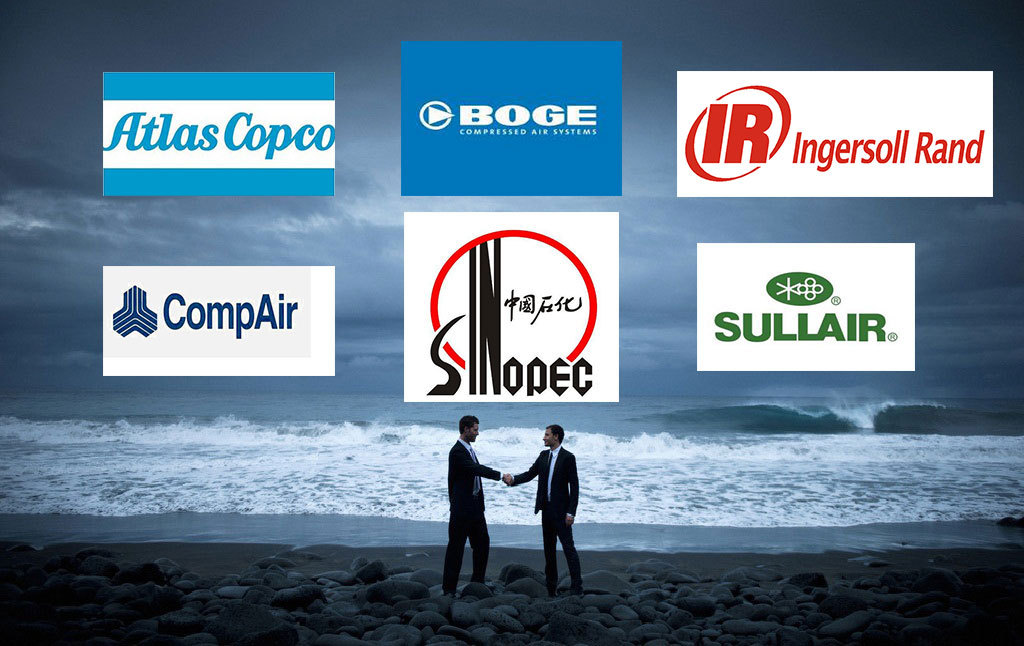 | | | | | | |
| --- | --- | --- | --- | --- | --- |
| S.NO. | VALUED CUSTOMERS | S.NO. | VALUED CUSTOMERS | S.NO. | VALUED CUSTOMERS |
| 1 | Atlas Copco | 2 | BOGE Kompressoren | 3 | Ingersoll Rand |
| 4 | CompAir Air Compressors | 5 | Sinopec Group | 6 |       Sullair Asia         |
3. Scale:
● Shanli has become one of  largest manufacturers in purifying industry of China with annual sales turnover USD 22 million. 
● Shanli has a wide range of customers who have full faith in our service delivery, warranty, quality and workmanship.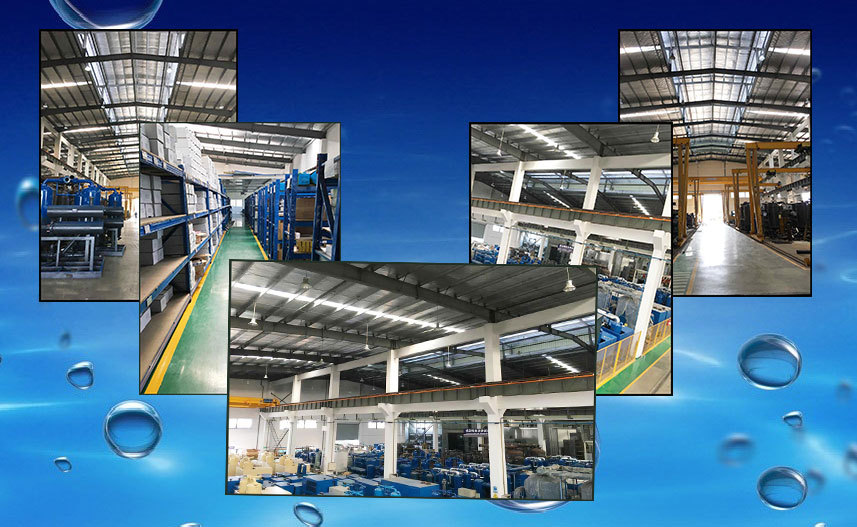 Product Applications
---
There are still some areas and applications where Shanli air dryers can be used, such as power construction, packing food, making ship, cleaning medical molding,removing EDM recast and discoloration, finishing and texturing injection mold cavities, cleaning orifices in turbine blades, engraving optical lenses,cleaning and preparation of semi-precious stones and jewelry, etc.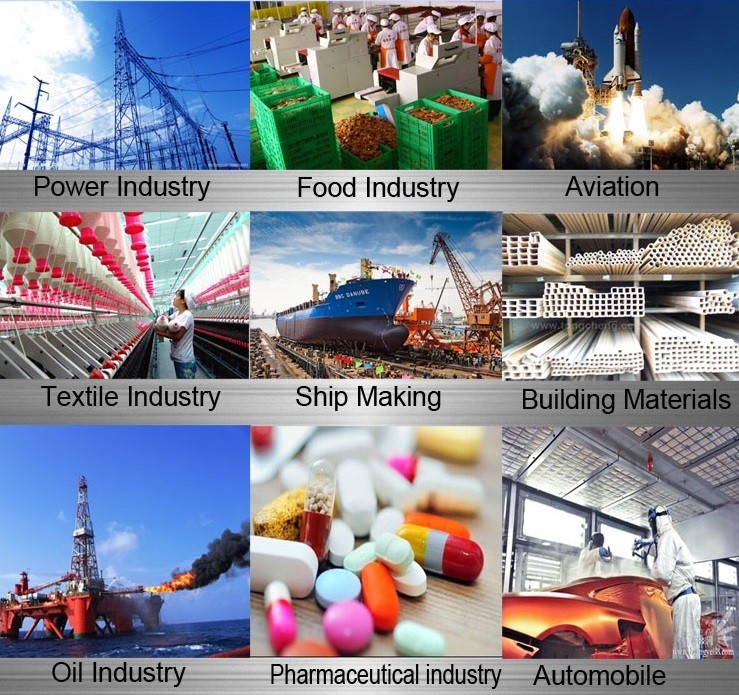 Why to chose Shanli?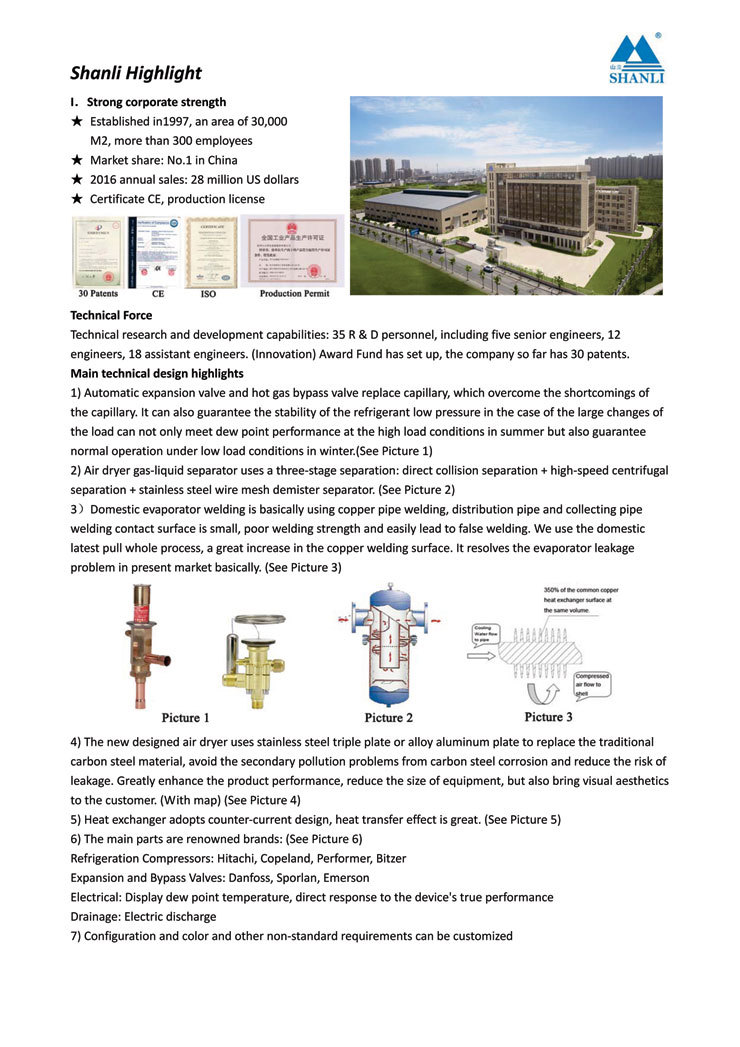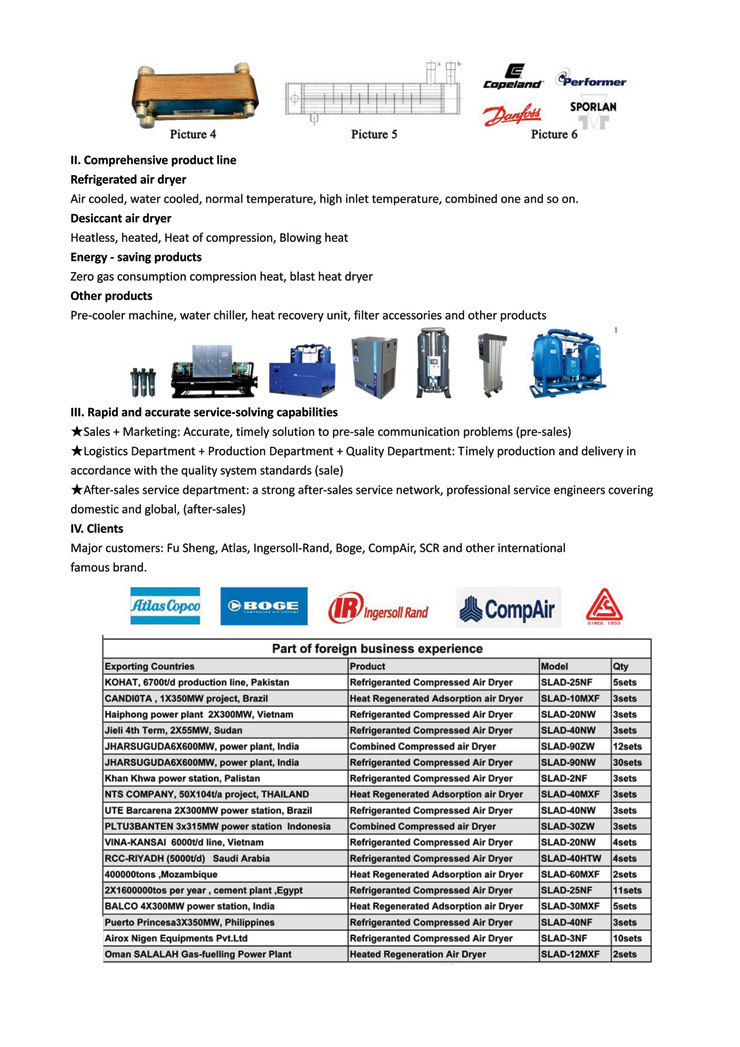 Comprehensive Product Line
Refrigerated Air Dryer
Air cooled/Water cooled Type, Normal inlet temperature type(60℃)/High inlet temperature type(80℃)
Desiccant Air Dryer
Heatless/Heated Type, Heat of Compression, Blower Purge Type
Energy ‐ saving Products
Heat of Compression Type(Zero Purge)/Blower Purge Type(Zero Purge),Combined type air dryer
Other Products
Pre‐cooler machine, Water chiller, Heat recovery unit, Filter accessories and other products
Contacts
---
Hangzhou Shanli Purify Equipment Corp.
Add: No.8,Liangzhan Road, Renhe Street,Hangzhou, 311107, China
Tel:86-571-86392999
Fax:86-571-86392998
Email: shanli@shanlipurify.com
Website: www.shanlidryer.com